The CO2 footprint of calcium ammonium nitrate ( CAN) of OCI Nitrogen is the first officially certified and now the climate friendliest in Europe . The latest technologies ensure that there is almost no greenhouse gases released during production . It is by far the greenest KAS with the lowest CO2 footprint in Europe. With the emission value of Nutramon ® in the chain analysis of agricultural production in the Netherlands , this leads to a significant reduction of the carbon footprint of Dutch products.
Lowest footprint in Europe
The calculated emission of greenhouse gases from agricultural crop is often high , partly due to the contribution of nitrogen mineral fertilizers . Compared to the old figures which official certification bodies still count,  the CO2 footprint of Nutramon is 75 % lower.
The registration is done according to the international " Carbon Footprint Standard " PAS2050 -I.  PAS2050 was introduced in 2008 with the aim to be used for the quantification of product CO2 footprint  and is recognized as an International consistent method. The cradle – to-gate calculation performed by Blonk Consultants and verified by the international certification organization SGS leave a carbon footprint of 2.06 kg CO2e per kg Nitrogen. In total OCI Nitrogen has a production capacity of approximately 1.4 million tons Nutramon , more than 50 % market share in the Netherlands and also a significant market share in North – West Europe .
Clearly recognizable and most efficient nitrogen fertilizer
Calcium ammonium nitrate provides a higher yield , higher crop quality and a lower environmental impact than other alternative fertilizers or manure products . It is the best addition to manure and has a lower nitrogen leaching and the lowest ammonia; the applied fertilizer is up 100 % utilization of the crop. This gives farmers the opportunity to realize higher returns. On the Nutramon – KAS is an orange grain added so the product is clearly recognizable by the farmer.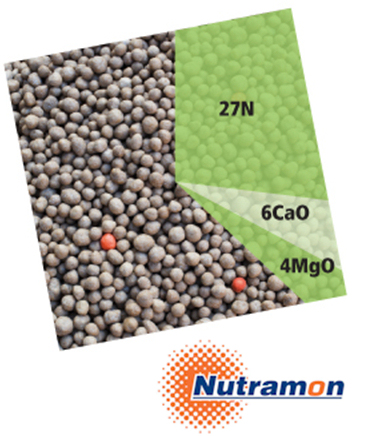 Working on sustainability
Dutch agriculture in terms of efficiency and sustainability is one of the leaders in the world. OCI Nitrogen supports organizations that are committed to sustainable agriculture as the Skylark foundation and is continuously working on further optimization of the production. Thus, OCI Nitrogen in 2008 won the " Responsible Care Award" from the Association of the Dutch Chemical Industry ( VNCI ) for reducing nitrous oxide emissions . In 2013, OCI Nitrogen again won the award for developing a new technique to reduce the dust emissions from the plants to zero. OCI also supports farmers and advisors with extensive fertilization information via the website Nutrinorm.nl