Fertiberia, a leading Spanish fertilizer producer, has joined forces with Cepsa, an oil major, as a strategic partner for their collaborative 1-GW electrolysis project in Palos de la Frontera, located in southern Spain. Both companies are focusing on green hydrogen and renewable gases to drive decarbonization efforts within their operations.
This partnership holds significance as Cepsa's La Rabida refinery in Palos de la Frontera is situated adjacent to Fertiberia's ammonia and urea plant. This proximity allows them to leverage existing industrial and operational synergies, maximizing the benefits of their collaboration. Cepsa highlighted this advantageous position in their announcement on Wednesday.
As part of Cepsa's broader plan to establish the Andalusian Green Hydrogen Valley, the project in Palos de la Frontera involves the deployment of two sets of 1-GW electrolysis systems, encompassing production, local distribution, and consumption of hydrogen, as well as transportation to ports for shipment to Rotterdam. Cepsa aims to create a Green Hydrogen Ring within this zone, integrating renewable energy sources, electrolysis, biogas, hydrogen infrastructure, and storage, ultimately enabling the supply of hydrogen to consumers both domestically and internationally.
The partnership with Fertiberia will facilitate meeting the hydrogen and biogenic CO2 requirements of their facilities in Palos de la Frontera. Moreover, the alliance is expected to contribute to the establishment of a circular hydrogen and oxygen economy in the broader region, potentially expanding to include the production of green ammonia and methanol in southern Spain and other provinces on the mainland, according to the official announcement.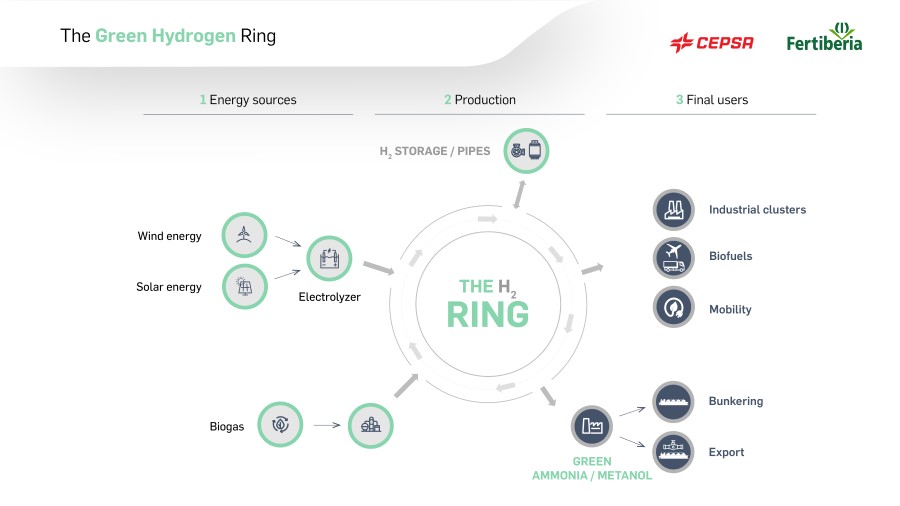 Recently, Cepsa welcomed Enagas Renovable, a Spanish renewable gases firm, and Alter Enersun, a green energy developer, as partners for the La Rabida portion of the Valley project. Shortly thereafter, Portuguese utility group EDP Energias de Portugal SA was announced as the partner for the other 1-GW segment located in Campo de Gibraltar.
Fertiberia's journey into the green hydrogen realm began in 2020 with a partnership with Spanish utility Iberdrola SA. Together, they built a 20-MW electrolyzer and a solar-plus-storage system to produce hydrogen for Fertiberia's ammonia plant in central Spain. Later that year, Fertiberia and Iberdrola increased their joint target to 800 MW of electrolysis capacity by 2027.