Casale signed a contract with GSFC for setting up one 40,000 TPA melamine plant at their site in Vadodara, India.
This is the first project Casale will execute after the acquisition of the melamine technology portfolio from Borealis in fall 2013.
This plant will be fully based on Casale's Low Energy Melamine (LEM™) Process (former Borealis HP melamine technology), which offers the advantage of producing melamine of superior quality at lower investment cost and with lowest energy consumption.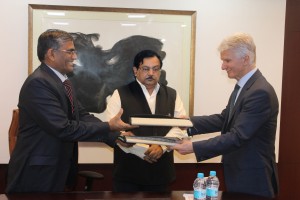 One of the main features of this project stems from the fact that the plant is a completely standalone unit, using directly ammonia and CO2 as feed, which will be processes in turn in a dedicated melamine off-gas treatment section where they will be transformed into urea before being sent to the melamine synthesis section. The same section will also reprocess the off-gas coming from the melamine synthesis section and transform them into urea in order to recycle them back to the same section.
Under this contract Casale will be responsible for licensing, basic engineering design and supply of key  equipment.
GSFC already operates two melamine plants in the same site, with an aggregate production capacity of 15,000 TPA and the new plant, which will boost the capacity up to 55,000 TPA, will strengthen GSFC's Industrial Products basket and would consolidate the Company's position as market leader in India. This new plant would be a step in the direction of import substitution and will save foreign exchange outgo.
This new plant is slated to be commissioned in 2018.